Return to Snowy River

Record Label: VARESE RECORDS

Track Listing:

1 Long Way from Home

2 Man from Snowy River II

3 By the Fireside

4 Eureka Creek

5 Back to the Mountains

Man from Snowy River

Record Label: VARESE RECORDS

Track Listing:

1 Main Theme

2 Jim's Ride

3 Chase

4 Jessica's Theme (Breaking in the Colt)

5 Henry Dies (Farewell to Frew)

6 Rosemary Recalls

To hear excerpts of Tom singing as Frank click on the musical note and visit the website of The Sydney All Star Big Band who have played with Tom.  Thanks to Ralph for the use of the link.

Frank, The Sinatra Story In Song

Recorded live in concert at the York Theatre in Sydney.

Track listing:

1. Come Fly With Me.

2. I've Got The World On A String. 

3. All Or Nothing At All.

4. I'll Never Smile Again/Day By Day. 

5. Saturday Night (Is The Loneliest Night Of The Week).

6. Nevertheless (I'm In Love With You). 

7. Night And Day. 

8. (Love Is) The Tender Trap. 

9. I've Got You Under My Skin.

10. Luck Be A Lady Tonight. 

I got my copy from Middle Eight Music.  Click on the CD to go there.  Thanks to Shane for the use of the link.

"Dreams" - release of a compact disc of a live performance of David Wansbrough's poems "Dreams, Delights, Fears and Fragments", read by Tom Burlinson and accompanied by original music composed and performed by Aaron McMillan.

I have yet to source a copy of this. 

BANANA LOUNGE: WITH A TWIST

Shock Records (Australia)

Released 30 November 1998

This is a compilation to benefit AIDS charities containing exclusive tracks, remixes and rarities by some of the biggest names in Australian music.

1. Departure - Loka & Pan Ann.                      2. (Love Is) The Tender Trap - Tom Burlinson

3. Koo-Kee - The Feeling Groovies                    4. Tragedy - Zurina

5. It Will Always Be You - Cold Chisel               6. Love Addiction - Robyn Loau

7. Blue - Vince Jones                                       8. Coconuts - Dannii Minogue  

9. Fever - Grace Knight                                    10. Je T'aime - Bob Downe and Julian Clary                     11. Old Devil Moon - David Campbell                 12. Trying Too Hard - Kate Ceberano  

13. Happy Boy - Astro Tabasco                        14. Heartbeat Of Sydney - Edwin Duff  

15. Message - Tina Arena                                16. Black Coffee - Rhonda Burchmore 

17. Tubthumping - Pastel Vespa                       18. Booty - Renee Geyer  

19. I Should Be So Lucky - Kylie Minogue         20. Arrival - Loka & Pan Ann

The Spirit of Christmas '99'

Myer Grace Bros bring us another Xmas treat. As usual, profits in aid of the Salvation Army, and the CD features many well known Australian acts.

Songs :

Away in a manger (Human Nature).                      Nothing But A Child (Lisa McCune & Nick Barker)

New Miracle (Bachelor Girl).                          Have Yourself a Merry Little Christmas (Tom Burlinson)

Home For Christmas (Vanessa Amorosi),                             The First Noel (Olivia Newton-John)

Christmas For Cowboys (Troy Cassar-Daley).                        I Remember (Kate Ceberano)

Mary's Boy Child (Archie Roach).                                         The Lord's Prayer (Marcia Hines)

Small One (John Farnham)      Silent Night (Jane Rutter)        Pretty Paper (Johnny O'Keefe)

Obviously Tom didn't sing in the Snowy River movies, but I have included the two soundtracks below because the contain what I consider the best theme scores ever composed by an Australian.  The Man Theme from Snowy 1 is probably the most recognised piece of music in this country and when it was used at the beginning of the opening ceremony to the 2000 Sydney Olympics, well there was not a dry eye in this house - all that was missing was Tom and his horse !  Both are available on CD at www.chaosmusic.com

7 Mountain Theme

8 Jessica's Sonata

9 Jim Bring in the Brumbies

10 Clancy's Theme

11 Brumbies

12 Harrison's Homestead (Jim Gets His Horse)

13 Searching for Jessica

14 End Titles

6 Skill at Arms

7 Jessica's Sonata #2

8 Pageant at Harrison's

9 Gathered to the Fray

10 Alone in the Mountains

11 Farewell to an Old Friend (Now Do We Fight Them)

12 You Should Be Free

13 Closing Credits



Dennis Hopper plays Frank Sinatra in this Australian comedy based on true events.  Dennis mimes to Tom's vocals.  DVD and Soundtrack are now available.

Track Listing

1  ROD AND AUDREY - SCORE INTRO 

2  ONE FOR MY BABY (AND ONE MORE FOR         THE ROAD) - TOM BURLINSON 

3  BOOGIE (PART ONE) - CARSON 

4  YOU AIN'T SEEN NOTHING YET - BACHMAN       TURNER OVERDRIVE 

5  PAPA LOVES MAMBO - PERRY COMO 

6  MANNISH BOY - MUDDY WATERS 

7  THE RATPACK - SCORE 

8  NIGHT AND DAY - TOM BURLINSON 

9  THE CONCERT MONTAGE - SCORE 

10  I'VE GOT YOU UNDER MY SKIN - TOM                BURLINSON 

11  FRANK GETS LOCKED IN - SCORE 

12  THAT'S LIFE - TOM BURLINSON 

13  THE SHOW IS CANCELLED - SCORE 

14  YOU MAKE ME FEEL SO YOUNG - TOM

     BURLINSON 
15  ALL THE WAY - TOM BURLINSON 

16  SILVERY MOON - SHERBT 

17  TAKIN' CARE OF BUSINESS - BACHMAN              TURNER OVERDRIVE 

18  BEWITCHED, BOTHERED AND BEWILDERED       - TOM BURLINSON 

19  TUTTI FRUTTI - ELVIS PRESLEY 

20  ROD AND AUDREY - SCORE 

I shop at  www.chaosmusic.com.au  www.hmv.com.au and www.ezydvd.com.au.  All have the DVD or CD in stock now and will ship overseas.

11. One O'Clock Jump.  

12. The Lady Is A Tramp. 

13. Fly Me To The Moon. 

14. My Kind Of Town. 

15. Summer Wind. 

16. That's Life. 

17. One For My Baby. 

18. Mack The Knife. 

19. The Man In The Hat. 

20. My Way. 

21. Theme From New York New York.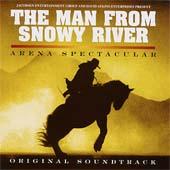 The soundtrack of the brilliant Snowy River movies and the 2000 Sydney Olympics opening ceremony inspired The Man From Snowy River Arena Spectacular, which toured Australia throughout 2002.  Described as "A rodeo musical" this event was like nothing else to ever tour this country.

Using the poems of Banjo Patterson, the film's memorable soundtrack, newly composed songs, actors, singers, stuntmen, riders and the most amazing horses in the country, you are swept away with the riding, the action, the story and the music.

I defy anyone to watch the horse whispering scene or the big chase with a dry eye !

It loses none of its excitement in the translation to CD, DVD and Video and all three can be purchased at www.chaosmusic.com.au , www.hmv.com.au and www.ezydvd.com.au

CD TRACK LISTING

1     WALTZING MATILDA (TRADITIONAL VERSION - INSTRUMENTAL) 

2     PRELUDE (NARRATED BY STEVE BISLEY) 

3     MUSTERING THE COLTS (INSTRUMENTAL) 

4     SPIRIT OF THE HIGH COUNTRY (LEE KERNAGHAN) 

5     SOUTHERN SON (MARTIN CREWES) 

6     SNOWY MOUNTAIN BUCK JUMP (LEE KERNAGHAN) 

7     JESSICA'S THEME (INSTRUMENTAL) 

8     THE ROPE THAT PULLS THE WIND (MARTIN CREWES) 

9     THE BREAKOUT (INSTRUMENTAL) 

10   KOSCIUSKO MOON (GEORGIE PARKER & MARTIN CREWES) 

11   BOYS FROM THE BUSH (SNOWY RIVER VERSION - LEE KERNAGHAN) 

12    WALTZING MATILDA (QUEENSLAND VERSION - INSTRUMENTAL) 

13    PULL THE OTHER ONE MATE (LEE KERNAGHAN & THE RIDERS) 

14    EUREKA CREEK (INSTRUMENTAL) 

15    A HANDFUL OF DUST (GEORGIE PARKER & MARTIN CREWES) 

16    AS LONG AS YOUR EYES ARE BLUE (GEORGIE PARKER) 

17    THE DEPARTURE, THE RIDE, THE RETURN (INSTRUMENTAL) 

18    THE MAN FROM SNOWY RIVER (NARRATED BY STEVE BISLEY) 

19    SPIRIT OF THE HIGH COUNTRY (REPRISE - LEE KERNAGHAN) 

20    WALTZING MATILDA (TRADITIONAL VERSION - INSTRUMENTAL) 

21    EPILOGUE: A SINGER OF THE BUSH (NARRATED BY STEVE BISLEY) 

DVD Program

Prelude

Mustering the Colts

The Homestead

Jim's Entrance - The Man Arrives

Breaking the Colts

The Horse Whisperer

The Breakout

The Confrontation

The Cracks Gather / Musical Ride

Musical Entracte "Waltzing Matilda"

Tall Stories

The Man and Kate - A kiss for luck

The Departure

The Ride

The Return and Celebrations

The Concert

Musical Ride

Finale

The Swagman Returns

DVD Special Features / Bonus Material

TIME LAPSE ARENA SET UP

CAST & CREW BIOGRAPHIES 

STEVE BISLEY READING THE MAN FROM SNOWY RIVER 

WOOD CHOPPING INTERMISSION SPECIAL 

STILLS GALLERY 

'INSIDE THE ARENA' – THE MAKING OF THE MAN FROM SNOWY RIVER ARENA SPECTACULAR