Tom provided his voice for:

1984

20 000 Leagues Under The Sea, Burbank Films.

1985

Kidnapped, Burbank Films.

The Hunchback Of Notre Dame, Burbank Films.

King Soloman`s Mines, Burbank Films.

1992

Recorded the voice of Sinatra for the mini-series of the same name for Warner Bros.

2003

Recorded the voice of Sinatra for the Dennis Hopper movie The Night We Called It A Day.

1981

The Man From Snowy River

Tom's Character's Name - Jim Craig

Produced by Michael Edgely Int.

Directed by George Miller

Also starred Kirk Douglas in dual roles, Sigrid Thornton, Terence Donovan, Lorraine Bayly

Based on the poem of the same name, by Andrew Barton "Banjo" Patterson.

After his father's death, young Jim Craig leaves his home in the Snowy River valley to work for a wealthy landlord, Harrison, who happens to be the estranged brother of Jim's mentor Spur, a grizzled old prospector. While fighting to earn his spurs by breaking a herd of wild horses, Jim falls in love with his employer's gutsy daughter Jessica.

1982

Phar Lap

Tom's Character's Name - Tommy Woodcock

Produced by Phar Lap Productions.

Directed by Simon Wincer

Also starred Ron Leibman, Judy Morris, Martin Vaughan

The true story about a horse named Phar Lap, who went from being a sickly colt to a top race horse. The horse's relationship with jockey/strapper Tommy lead him to win over 30 races in 3 years . Adding to the mystique of Phar Lap is his strange death, which occurred under mysterious circumstances after winning a race in the USA.

1985

Flesh And Blood   AKA "The Rose and the Sword."

Tom's Character's Name - Steven Arnolfini

Produced by Orion Pictures

Directed by Paul Verhoeven

Cinematography by Jan de Bont

Also Starred - Rutger Hauer, Jennifer Jason Leigh, Jack Thompson

Set in medieval Europe when valiant knights battle for love and honor, this is the adventurous story of two men - a mercenary soldier and the son of a feudal lord - and their love for the same woman.

Cleverly-plotted and well-crafted, Flesh and Blood is suspenseful adventure which takes place at the outset of the Renaissance, the story concerns a band of mercenaries and their leader, Martin (Hauer) who are employed by baron named Arnolfini to lay siege to a city, being promised a share in the spoils. Once done with them however, Arnolfini banishes Martin's gang with no reward. In retaliation, the gang kidnaps Arnolfini's daughter in law to be, Agnes (Leigh) and set themselves up in a small castle they have overrun. Arnolfini lays siege to the castle with the aid of Agnes' fiance Steven, but in the midst of their fighting, a deadly plague descends on the characters.

1986

Windrider

Tom's Character's Name - PC Simpson

Produced by Barron Films

Directed by Vincent Monton

Also Starred Nicole Kidman, Charles 'Bud' Tingwell, Jill Perrymen.

This is a youth-oriented romantic drama about the relationship of a champion windsurfer and a rock singer. Enhanced by impressive sequences of surfboard derring-do and the exotic scenery of Perth, Western Australia (as well as the first adult role for Nicole Kidman), this film has plenty to keep young audiences entertained. P.C. Simpson lives in a magnificent beachfront home, works with his wealthy father and indulges his passion for windsurfing on a daily basis. His father may fault him for not concentrating on his day job, but he can appreciate his son's remarkable abilities on the waves. Jade (Kidman) is a rock singer who starts an romance with the surfer, but just as it seems his life could not get better, several setbacks occur that threaten a wipeout.

Making Waves was the production title. Filming was completed on November 9, 1985.

1987

Time Guardian 

Tom's Character's Name - Ballard

Produced by Jen-Diki Productions.

Directed by Brian Hannant

Also starred Dean Stockwell, Carrie Fisher  Nikki Coghill

Set in the 24th century, central Australia, due to the unlivable conditions on Earth, a new city is created in a protective dome that can travel to different time periods. But, even with this ability, their enemy, never ceases to track them, bent on destruction.

When a 4039 AD city is threatened by malevolent cyborgs, a group of humans from the city time-travels to a desert in 1988 Australia, hoping to repair damages inflicted by the robotic baddies. It is here that, with the help of a 20th-century geologist, the group attempts to defend themselves and the city against the incoming killer 'borgs.

1988

Return to Snowy River

Tom's Character's Name - Jim Craig

Produced by Snowy II Productions

Directed by Geoff Burrows

Also starred Sigrid Thornton, Brian Dennehy, Nicholas Eadie

After spending some time away from his hometown, Jim Craig, the original man from Snowy River, returns to find Jessica, the love of his life, forced into an unwanted engagement by her overbearing father, Harrison.

Once again, Jim has to prove his mettle to win the girl and save the mountain residents from the rich settlers after the valuable land and horse's.

1988

Piece of Cake

Tom's Character's Name - "Fanny"

Produced by London Weekend Television.

Directed by Ian Toynton

Also starred Neil Dudgeon, Tim Woodward, Jack Mckenzie, Tom Radcliffe, George Anton, Nathaniel Parker, Jeremy Northam.

It's 1939 and the Hornet Squadron, a Royal Air Force group of Spitfires, is being assembled for duty in France. As the men prepare for action they must learn to deal with each other despite personality conflicts and class divisions. An excellent miniseries covering the early months of World War II and the Battle of Britain, featuring painstakinly accurate aerial battles and complex character development. Based on the novel by Derek Robinson.




1990

Kootenai Brown AKA Slowdown at Williams Creek

Tom's Character's Name - John George 'Kootenai' Brown

Produced by Canadian Productions and Face To Face Films Inc.

Directed by Allan Kroeker

Also Starred Raymond Burr, Donnelly Rhodes

Based on a true story, Showdown at Williams Creek is about a British soldier named John Brown, who moves to America's Wild West, settling in the Montana territory with the hopes of making a fortune in 1870. Brown welcomes the friendship of Eben "McTooth" Campbell, a prospector with abundant convincing charm who never hesitates to cheat and rob in order to make his fortune. Brown is driven to the brink of madness and to murder.  Things don't go entirely as planned in America, as he has to survive not only nature, but a vast array of thieves, cheats, and schemers. The culmination of his misadventures is when Brown is put on trial for killing an old man. Brown is surrounded by a fascinating tale of survival, treachery and passion in his defense.  Boasting several terrific performances it is one of the darkest examinations of the Old West and the gold rush to be told on film.

1992

Landslide

Tom's Character's Name - Howard

Produced by Jadran Films

Directed by Jean- Claude Lord

Also starred Melody Anderson, Ken James,

William Colgate, Lloyd Bochner, Joanna Cassidy,

Anthony Edwards, Ronald Lacey

An amnesia victim's search for his identity leads to a hotbed of corruption and into battle with a ruthless land baron who holds the key to the past...and the future.

Ten years ago, a mysterious car crash killed three people and wiped out geologist Bob Boyd's (Anthony Edwards) memory.  Now he's back at the scene of the "accident" looking for answers.  Was he a hired killed or an innocent victim of circumstance ?

The Matterson family knows, but they'll do anything to keep Bob and his new girlfriend from uncovering the secrets of the past or revealing a new, even deadlier conspiracy.  Now every question Bob asks can get him hurt, or killed.  And every second brings him closer to being buried alive in Landslide.

1994

The Way To Dusty Death

Tom's Character's Name - Ike Jethou 

Produced by Delux Productions Luxembourg

Directed by Geoffrey Reeve

Writing credits - Alistair MacLean (novel)

Also starred Linda Hamilton, Simon MacCorkindale, Christopher Cazenove, Serena Scott-Thomas

A thriller from the dangerous world of racesport.  Mysterious deaths surround the race track industry.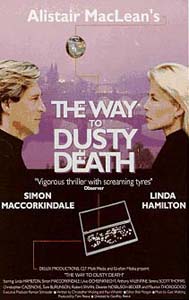 Click on the pic to see the original cover of the video from its Aussie release.

Coming Soon:

Fans reviews of all of Tom's movies.