Here are as many possible reviews and interviews I could find on Tom's performances in 'Frank'. They are in date order from 992 to the present. Unfortunately many are quite repetitive, almost as if they all sat at the one interview with Tom on the same day. Many of the Eastern States papers tended to concentrate on the fact that it was the former Man from Snowy River doing Sinatra, rather than giving us a clue about what the show was like.

I hope you persist through them tho as way down near the bottom, the Perth reviews actually talk about the show itself !!

Thank you to friends on the East Coast who collected many of these for me.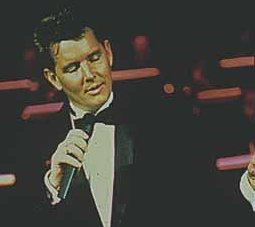 Tom's Got The Voice But Not The Looks.  Herald Sun. 21st May 1992. 

Australian actor Tom Burlinson is the voice of singing legend, Frank Sinatra, in a coming mini-series on the life of Ol' Blue Eyes.  According to Tina Sinatra, executive producer of Sinatra and the singer's daughter, Burlinson can not only sing, but also he sounds like Sinatra did in the 1940s.

"Tom sounds like young Frank," Ms Sinatra told Entertainment Weekly.

Burlinson, who is best known for The Man From Snowy River and Phar Lap, doesn't look like the Chairman, however, and Broadway actor Philip Casnoff stars as the crooner in the CBS mini-series which premieres in the US in November.

The soundtrack to the mini-series will also feature originals by Sinatra and some tracks written especially for the project by Frank Sinatra Jr.

The mini-series will track the life of Sinatra, who after singing with the Harry James and Tommy Dorsey orchestras emerged as a pop idol in the early 1940s.

He went on to pursue a movie career, giving acclaimed performances in From Here to Eternity, for which he won an Academy Award for Best Supporting Actor in 1953, The Man With the Golden Arm, which earned him an Academy Award nomination for Best Actor, and the 1962 political psychodrama, The Manchurian Candidate.

Behind The Man In The Hat.  Sydney Morning Herald.  21st November 1992.  By Helen O'Neill.

Tom Burlinson was seven years old when he first heard Frank Sinatra sing and, like any true fan, his memory of the event is tinged with a heady mixture of reverence, pride and faintly disguised embarrassment.

"We lived in England," the 37-year-old actor says, his voice shaking ever so slightly. "We had this album called Sinatra's Sinatra and it had a picture of him - a close-up of him with a hat which he always wore at that time.

"Sinatra's Sinatra was confusing to me as a seven-year-old, so I used to say 'Put on the man in the hat'."

Almost 30 years and a fairly high-profile film, stage and television career later, Burlinson wrote a song about Sinatra's effect on his life and called it The Man In The Hat. Ray Martin heard about it and got him to perform it on The Midday Show. Then, when Burlinson's US agent got word that Sinatra's daughter, Tina, was casting for sound-alikes and look-alikes in a biographical TV mini-series on her father, Burlinson sent her a video tape of him singing the song.

He didn't get the lead role he was after - that went to the US actor Philip Casnoff - but he hit the right note with Tina Sinatra. When she heard Burlinson sing, the 44-year-old executive producer of Sinatra, a $US20 million ($A29 million), five-hour saga, asked him to spend a week in January recording songs from her father's early career. Sinatra himself and his son, Frank Jnr, provided the rest of the soundtrack.

"Even while I was doing it I had to pinch myself that here I was and I was the one that was chosen to sing the voice of ... The Voice," Burlinson says. "I'll always be a fan - I just think he's the greatest. (But) I didn't get to meet him."

Even so, this is hardly Burlinson's first brush with cultural folklore. He was the man who sent the flint-stones flying in The Man From Snowy River I and II, and pushed Big Red to the height of horsy notoriety in Phar Lap, as the great beast's strapper, Tommy Woodcock. Although he has since made a conscious effort to vary his roles - doing comedy, sci-fi and TV soaps such as The Sullivans - the saddle has somehow stayed with him.

"Here it's like: 'Tom Burlinson? The guy ... in The Man From Snowy River? Sings like Frank Sinatra?'," he says with a laugh. "In America, they said: 'You got an Ah-straylian? The kid on the hoss?'."

It has been an odd year for Burlinson. After he finished recording Sinatra, which is now being screened in the US, he went to Ethiopia and Kenya to do a documentary for World Vision. Soon after he got back to Los Angeles, he found news of his singing work had filtered back to Australia, where he was offered the lead in a musical opening in Sydney early next year, How To Succeed In Business Without Really Trying. Although few in Burlinson's profession can plan ahead, he says he is still staggered by finding himself getting paid -"not a great deal of money" is all he will say of the amount - for not only impersonating a young Frank Sinatra's voice, but impersonating it at a time when his performance almost got Sinatra booed off stage.

"It's something I used as a party trick for years that's getting some public attention," he says. "It was never about the money. I was really honored to be asked to do it by the daughter of the man himself, who knows his work intimately. And it was a great experience, working in a recording studio, to get my voice sounding like the man himself."

Tina Sinatra sat in on his recording sessions and, according to Burlinson, was "quite touched, I think, at times by what I was able to do".

"I mean, there was one moment in I'll Never Smile Again where ... there were tears in her eyes because we had got close to how he sounded in 1941."

The burning question, of course, is how did the actor prepare for the role? Did he find himself hanging around in the nostalgia sections of record shops? Or dodgy Italian restaurants?

"Oh no," he says. "It was just really a matter of listening with such an attentive ear to every phrase, every place where he pauses for breath, every note he holds and how long he holds it for.

"I suppose it went fairly smoothly because of the preparation I had done over the years. I know his phrasing and his breath control and the whole style, his concentration on consonants - all these different things I'm very aware of that they didn't have to keep reminding me about."

Not that it was easy. "I don't know what the (singing) equivalent of getting saddle sore is," he adds with a grin, "but it was hard."

Tom's Ol' Blue Eyes.  Herald Sun.  13th April 1994.  By L Hetherington. 

TOM Burlinson is probably best known as the "Man" from Snowy River but he has another claim to fame - he has a singing voice that rivals Frank Sinatra.

Tom is the singing voice of the young Frankie in the mini-series Sinatra, which goes to air on Nine on Tuesday.

"I put a song on to the end of my audition tape that I sent to Tina Sinatra who was producing the series and when she heard it she rang me and said `Get over here'," Tom told Spotlight.

Tom, who sang numbers such as It Had To Be You, Marie and All Or Nothing At All, learned to imitate Sinatra from listening to his parents' records.

"My voice is more like Frank's early days, when it was slightly higher. Sinatra was good for me because before that, nobody in Australia knew I could sing."

Young Blue Eyes.  Sydney Morning Herald.  29th January 1998.  By Judy Adamson. 

He still gets fan letters from kids who love Jim Craig, the lead character in the The Man From Snowy River. But these days Tom Burlinson is just as likely to sing for a living - and these days that means singing a Frank Sinatra number.

His face may no longer have the chubby smoothness of The Man from Snowy River days, but Tom Burlinson hasn't changed much since he first chased the colt from old Regret across our screens in 1982.

Some of his vowels have a slight American twang - an unconscious legacy, perhaps, of three years spent trying to carve a niche for himself in the United State's acting scene. But Burlinson's creative goals are still to play his characters convincingly, and he retains the unspoiled, normal-guy approach to life that has been apparent since the beginning of his career.

He stirs his coffee with a concentration born of embarrassment, the blush clearly visible under his tan, as he recalls the adoration young teenage girls felt for his Snowy character of Jim Craig. Never one to flaunt himself before the public, the "recognition factor" that the film created initially sent him scampering for cover.

He has since discovered that being a public person in Australia is very rarely an imposition, particularly when compared with the kind of god-like adulation Americans lavish on their stars.

When people pick him out in the streets near his Mosman home these days, it is usually just to pass on a compliment - most lately for his singing in shows such as How to Succeed in Business Without Really Trying, or Stephen Sondheim's Merrily We Roll Along . . . or for hosting Animal Hospital on TV.

Burlinson has got used to the fact that he will forever be linked to his first, hugely successful film. Although he notes, with a sigh, that if he and the movie had been American it would have had a much bigger impact on his acting future, he tries to concentrate on the positive impact it did have on his career - and the buzz he still gets from the Snowy fan letters that roll in.

"There have been two or three generations of kids who are now seeing it, who were never even thought of when the film was made," he says. "And because it is that kind of movie, I'm still getting letters from people - mothers of kids who now love Jim Craig, the man from Snowy River. He is their hero, and a lot of actors would kill to have that kind of association with a part.

"I don't think I'll ever be completely able to get away from it, because the film's become a bit of a classic, like the poem is a classic piece of Australian folklore. But I'm certainly not going to complain about being associated with a film that was so successful."

Burlinson's childhood hero could not have been more different. Instead of dreaming about riding through Australia's high country, he was glued to his parent's stereo set, listening to Frank Sinatra swing his way through the Cole Porter classic I've Got You Under My Skin.

He made his parents play the record over and over, loving the sound of Sinatra's voice. But as he grew up, he forgot about "the man in the hat", and transferred his musical allegiance to artists such as James Taylor, Cat Stevens and Crosby, Stills and Nash - until one day, at 17, he slipped the old Sinatra record from its cover and "fell in love with it all over again".

This time, the love affair stuck - to the extent that, when he was at NIDA in the '70s, his exasperated singing teacher told him not to bring in any more Frank Sinatra songs.

"I used to sing everything like he did," Burlinson recalls with a chuckle, "so we tried to do songs that Sinatra hadn't recorded, but I'd still sing it in the Sinatra style.

"I would just buy record after record and listen to them and sing along with them until I became very familiar with a lot of them. And I started realizing, as my own voice matured, that it was placed very much in a similar range, and with a similar quality, to his. Not the same, but when people hear me sing they can say it's the actual singing voice that has a similar quality, rather than me just `doing' it."

Burlinson has Sinatra to thank for the recognition now given to his singing. His vocals were used for the young Sinatra in the American mini-series of Ol' Blue Eyes' life, and it was that which led to a lead role in How to Succeed back in Australia in 1993 - during which he met Mandy, the woman who would become his wife.

The musical work has since become a solid part of his career, providing dramatically demanding opportunities in shows such as Miracle City and Merrily We Roll Along that his boyish looks often didn't make possible in straight acting roles.

Sinatra struck gold for him again last year, when Burlinson was asked to do a program for the 1998 Tower Twilight at Taronga series, which begins next month. It meant preparing a full show of Sinatra songs for the first time, but Burlinson is very keen about the project.

"Some of the songs I am intimately familiar with - I mean I've heard them literally thousands of times," he says. "But you also have to have the arrangements of all those songs for a 16-piece band, and that's a lot of music. So the last couple of months I've been employing musicians to do those arrangements for me . . . but once you have them, you have them forever.

"Then of course you have to go through and decide which songs you wanna do, because there are literally thousands - and there are some that you can't not do, like My Way and New York, New York."

Burlinson reels all the titles off, relishing each one: I'll Never Smile Again, I've Got The World on a String, Come Fly With Me, The Tender Trap, I've Got You Under My Skin, My Kind Of Town, All The Way, In The Wee Small Hours of the Morning, Luck Be a Lady, The Lady is a Tramp . . . and so on.

He will not pretend to be Frank, but will "certainly" wear a tuxedo, and use his encyclopedic knowledge of Sinatra's life and career to give his audience a feel for what was going on in the singer's life when certain songs became hits.

For instance, although Sinatra sang Luck Be a Lady from the musical Guys and Dolls, he didn't play the part of Sky Masterson - the character who sings the song - in the movie. Marlon Brando played Masterson and sang the song himself, while Sinatra played the second-string role of Nathan Detroit.

Sinatra had really wanted the part, and was so irritated with Brando's method-actor desire for preparation before each scene that he has been quoted as saying to the director, "Don't bring me into the game, coach, unless Mumbles [Brando] is through rehearsing."

With such elements to Sinatra's history, Burlinson makes a clear distinction between his admiration for the music, and his awareness of the often difficult man behind it. "Frank Sinatra is a very complex character - almost a study in opposites," he says. "On the one hand he can be extremely generous to people he hardly even knows, and yet on the other hand can be very offensive. Sinatra is volatile to say the least.

"I can't say that my admiration for the man is that great, because I don't know the man - all I can do is read reports about him. You can't really judge from that and I tend to not even try.

"But the music - my admiration for what he did in the years when he was working for Capitol Records, and in the early years of his own company, remains absolutely undiminished. I mean as far as I'm concerned, he almost recreated the form of popular singing."

The Taronga performances will just be the start of Burlinson's Sinatra show. Having gone to the trouble of getting big band arrangements for so many songs, he is now planning a production on a bigger scale that he hopes to tour around the country.

There is also the incentive of working for the first time on something over which he has creative control. Like most actors, Burlinson has had his fingers burned by signing up for something which has turned out nothing like it was intended.

"There are a couple of choices that I made, that when you see the end product you think, `Oh God, what was I thinking?' " he says. But you never know when you take a job how it's going to work out, particularly in film where you've got the director, the editor, the producer all in on it. The frightening thing is - and this has happened a couple of times, too - that you find yourself in the middle of a shoot and you realize the director does not know what he's doing. And your name's above the title . . . you've just got to do the best you can. Having been a professional actor for over 20 years, you're essentially waiting for somebody to offer you a job, and I've been very lucky in that I've been offered a variety of different, good jobs over the years, and haven't ever had to do anything that isn't performance-related in order to make my income. But now I just feel that it's time for me to take the reins a bit myself, and if I'm going to do this [show], then I'm going to produce it. I'll probably learn a lot along the way, but we're hoping to get something together that we can take around the country and keep busy that way, and not have to rely on somebody saying, `What about Tom Burlinson for this acting thing' - for a while, at least."

Tower Twilight at Taronga begins on February 6 and runs until March 29, every Friday and Saturday night and Sunday afternoon. Tom Burlinson's Tribute To Frank Sinatra show will be on the two weekends beginning February 20 and 27.

Perfectly Frank.  The Daily Telegraph.  15th May 1998.  By Amy Egan.

Tom Burlinson was hiding one of his major talents when he played a stoic bushman in The Man From Snowy River.

He could easily have burst into a rousing rendition of the latest bush ballad as he careered down mountains on horseback.

Or maybe he would have been better suited to serenading Sigrid Thornton with a Frank Sinatra song.

While The Man From Snowy River might never have made it as a musical, Burlinson's life-long passion for Sinatra has followed him as closely as his world-famous movie debut.

And now he is making his first venture into the business side of showbiz -producing Frank -The Sinatra Story In Song.

Burlinson will use a talent he discovered early in his career when he sings some of the greatest songs of the past 60 years in unmistakable Sinatra style.

"I first heard Sinatra when I was about seven years old," Burlinson said yesterday. "There was something about the music that grabbed me straight away, it went straight to my soul. I used to ask my mother to play `the man in the hat' -I didn't know his name then -over and over again."

As a teenager he lost interest in Sinatra, preferring rock 'n' roll, but when Burlinson rediscovered his parents' records, he fell in love with them all over again. "I started reading some of the biographies about his life, learning not only about the music, which was what had initially grabbed me, but about the man himself, which was fascinating," he said. "And then because I sang along with Frank, I found that as my voice matured it was very much placed in the same range as Sinatra and because I liked the singing style so much I easily imitated it. So I could do a pretty good Sinatra imitation, but that was all, it was like a party trick."

Burlinson had singing lessons while at NIDA, but his acting career took off so quickly he never followed it up. After Man From Snowy River, he went straight on to Phar Lap, the mini-series Eureka Stockade and a range of other movies and theatre roles.

So it wasn't until a few years later that he decided to do something with his ability to sing like Sinatra. He wrote a song, The Man In The Hat, which he then performed on the Midday show.

And when he heard that an American mini-series was being made about Sinatra, he sent off a tape that included this song.

After singing for Frank's daughter Tina, Burlinson found himself singing the voice of young Frank Sinatra for the mini-series.

"It was a great honor," he said.  Burlinson resurrected his Sinatra-style singing earlier this year at the popular A Tribute To Frank Sinatra, held at Taronga Park Zoo.  "The response was so great I thought I should do something more with it," Burlinson said. "So I've worked on a show that has a documentary style, I don't assume the character, but when I sing the songs his character comes through."

Frank -The Sinatra Story In Song is at the York Theatre, Seymour Centre, from May 29 to June 13.

Young Blue Eyes.  Sun Herald.  17th May 1998.  By Brett Thomas.

Frank Sinatra's death on Friday adds a special poignancy to Tom Burlinson's staging of The Man's music

He didn't bring the hat. But he had the suit - a classy, grey retro single-breasted job - the classic 1930s-style radio microphone, those famous old songs and most certainly the voice. In fact, if you'd closed your eyes, you would have sworn it was a young Frank Sinatra on stage crooning I've Got You Under My Skin, not Tom Burlinson, an actor best known for his moleskin heroics in The Man From Snowy River.

But, for this special preview of Burlinson's new show, Frank - The Sinatra Story In Song, there was no sign of that trademark Sinatra hat, the one that's decorated countless record covers and publicity shots.

Which is Tom's way of making sure he's still Tom when he's on stage belting out those impossible-to-forget songs. Not a Sinatra impersonator.  "I don't assume the character," Burlinson says. "But because I'm so familiar with his singing style and having seen him on video and live, the mannerisms do come out. I don't intentionally play him. It's still me singing the songs, but it's very much in his style. Between the songs I tell stories and I might say, 'And then Frank said ... ' and do a little spoken impersonation, but it's not actually me playing him."

The Sinatra show, which Burlinson is co-producing and financing, might come as a surprise to people who only recognise the 43-year-old actor for his many movie and television appearances (most recently as host of Nine's Animal Hospital). But aside from a period of teen rebelliousness, when Led Zeppelin and Elton John ruled his record player, Burlinson has been a life-long Sinatra devotee.

"It really goes back to about 1963," he recalls. "I was seven and we were living in England at the time and my parents had two Frank Sinatra records. One was called Sinatra Sinatra and the other was called A Swinging Affair.

"Sinatra Sinatra's record cover has a picture of him in the trademark hat, with the song titles written with multi-coloured letters all over the place. For a seven-year-old boy it was quite confusing, so I used to say to my mother, 'Put on the man in the hat'. That's when it started. There was something about that music and that man's voice that went straight to my soul.

"I can't explain that. I was brought up on jazz and I inherited a feel for that kind of music. But there was something about that swinging Sinatra style, and the ballads, too, that really appealed to me as a child."

Burlinson grew back into Sinatra by the time he was 17 when, sorting through his father's record collection one day, he came across a dog-eared, fading copy of that very first Sinatra record he had fallen in love with.

"I just fell in love with it all over again," he laughs. "The romance of it, of course, I understood far better than I had when I was a child. And thereafter I went out and bought one record after another, almost every week, to the point where I had about 50 of Frank Sinatra's LPs.

"Then, of course, I started singing along with it and found that as I'd matured, the range in my voice was very much with Sinatra's light baritone area."

At first, Burlinson's singing was just a party trick, destined to convert a few friends to Sinatra and annoy the hell out of a few of the non-believers. It developed further when he attended NIDA, took singing tuition and bombarded his teacher with even more Frank. Then his acting career took off with the 1982 international hit The Man From Snowy River and singing took a back seat.

But in 1990, he heard through his representatives in the US of a television miniseries being developed by Sinatra's daughter Tina about the singer's life. It was a part he was desperate for.

"I thought, well, I know this is the biggest long-shot in history but I want to be considered to play the part," he says. "So they sent out some scenes and we made a big effort to make it more than just a screen test. We employed actors to play the other parts and we did multi-camera stuff and I threw some money at it and did these three scenes.

"And on the end of it, I included a song I had written about Sinatra called The Man In The Hat, which I'd performed on The Midday Show."

Burlinson missed out on the acting job, but to his surprise - and just about everybody else's - he was chosen by Tina Sinatra to sing some of her father's early songs for the miniseries' soundtrack.

"That was the first professional singing I'd ever done," he says, laughing at the memory. "Pretty extraordinary to sing the voice of one of the greatest popular singers of the century - in my opinion, the greatest - having never professionally sung before."

While recording the songs, Burlinson got to know Tina quite well and he even managed to attend a Sinatra concert in Las Vegas as one of Frank's official guests. But he never got to meet Sinatra, something he now regards as a mixed blessing. "I wouldn't have known what to say to him anyway that hadn't been said to him a thousand times before."

Although Burlinson's love of Sinatra was centred on the music, for many people the Sinatra legend can't be discussed without including the more turbulent aspects of the singer's life - his tumultuous love affairs with the likes of Ava Gardner and Mia Farrow, his alleged gangster links and the kind of behaviour that earned him the nickname Cranky Franky.

Burlinson has heard all of the stories, but is staunch in his defence of Sinatra, claiming life experiences only helped to make the man even more interesting.

"The music was always the thing I cared about the most," he says. "Of course, then you start finding out about the character of the man. But you know that's only what other people write about him. I never met him, so I can't really make valid judgements on the man's character. You can say, 'Boy, the way he behaved in that particular situation was intemperate', or whatever you want to say, but ... you don't know what was going on inside his head at the time. There's no doubt he was a volatile personality, a complex man. He had the propensity to be violent sometimes; he was intensely private and yet his life was very much exposed to the public spotlight. So, that complexity gave the man's singing much greater emotional depth than someone just getting up and singing a song. And that's the thing that appeals to me, he personalised his material and so there are songs that are absolutely identified with him because of his personalisation - My Way being the definitive example."

As well as the songs, which Burlinson will perform with the aid of a 16-piece band, the show will include a spoken-word run through of Sinatra's life and career, with the highs and lows all covered.  If the show is a success, Burlinson plans to take it on the road and he is considering expanding his singing into a recording career, having already performed in a number of musicals since being heard on the TV miniseries. "It's a matter of diversifying if you want to keep working in Australia," he says. "I was lucky. I got a lead role in a feature film, years ago now, but it's very rare that you can continue to work in Australia in lead roles in feature films. "I've always looked at different avenues of working within the entertainment business that not only keeps you employed but keeps you challenged."

* Frank - The Sinatra Story In Song runs from May 29 to June 13 at The York Theatre, Seymour Centre.

Star Tells Of His Life As A Legend.  The Daily Telegraph.  19th May 1998. 

By B Corbett & K Meikle. 

Throwing humility to the wind, actor Tom Burlinson yesterday spoke warmly -make that very warmly -of the man whose life has become his obsession in the past six months.  Speaking on the Laws program about his upcoming Sydney production of Frank: the Sinatra Story in Song, Burlinson said he was devastated by the death last week of Ol' Blue Eyes.

"I cannot really put into words how much I love him," Burlinson said.  "I feel I know him in a way just through his work."

Public and media interest in Burlinson's production has surged since Frank Sinatra's passing.  A fact not lost on Burlinson.

"I can't believe the timing of it," he said. "We have this show that has been written and conceived and then only two weeks away from opening we lose him.  It really made me want to show more than ever before how great he really was. And if I can touch that greatness I will be happy."

Franks For The Memories.  Sydney Morning Herald.  29th May 1998.  By Stephen Dunne.

While Frank Sinatra exhorted his followers to start spreading the news, Tom Burlinson isn't quite so sure. Burlinson's show Frank, The Sinatra Story In Song had been in planning for months. When the subject died, two weeks to the day before Frank opens at the Seymour Centre, Burlinson found himself as a minor accessory in the media chatter. He came a cropper with a journalist from not-this-newspaper: "I was saying [Sinatra's death] has made me more determined to try and show people how great he was and if I can just touch that in my performance, touch that greatness, then I'd be happy. They made it look as if I was saying I was as great as Frank Sinatra, that I'd thrown humility to the wind," says Burlinson.

"It was completely the wrong impression. It's why Sinatra didn't talk to the press, in his later years, because they kept on getting it wrong. So be warned."

Burlinson has been a fan since he was a kid but his Sinatra break came in 1991 when Tina Sinatra (the Chairman of the Board's youngest daughter) was looking for a voice to portray The Voice for a TV mini-series. Burlinson sent a tape of a tribute song he wrote and performed on The Midday Show to America. He got the job.

"It was a great honour, when you think of all the people they could choose from, I mean it was extraordinary. The reaction in America was 'who's singing Frank?' and it was, 'that Aussie, the kid on the horse.' "

Burlinson says the show is neither a tribute nor an impression. While he sings uncannily like the younger Sinatra (he reckons his voice is naturally in a similar range and tone), there's no use of famous mannerisms. "Whenever I speak between songs it is in the third person.

"I don't assume his character. So it's still Tom, it's still me singing the songs in the Sinatra style, it's not me pretending to be Frank. I don't come on in a hat or use any of those sort of Sinatra trademarks. No jacket over the shoulder. I talk about his life, I talk about his career, we focus on the music and what I've tried to do is choose songs that reflect what may have been happening in his life and his career at the time."

There are 24 songs in the show. Burlinson's favourite? (long pause): "The first time I heard Sinatra sing was on an album called Sinatra Sinatra, and track one, side one was that classic Nelson Riddle arrangement of I've Got You Under My Skin.

"That for me was the definitive example of Nelson Riddle's genius and the product of an incredible collaboration, that produced the greatest popular music of the century."

Frank - The Sinatra Story In Song opens at the Seymour Centre tonight and runs until June 13.

Right Swing, Wrong Hips, But It's All Right With Tom.  Sydney Morning Herald.  2nd June 1998.  By Richard Jinman.

The hips swing, the fingers snap and the 16-piece band kicks like a mule. When Tom Burlinson slips into the tuxedo and sings Sinatra, it's easy to forget the real Chairman of the Board has cashed in his shares.

"He put sex into his delivery, there's no doubt about that," said Burlinson, whose musical tribute Frank - The Sinatra Story in Song opened at Sydney's Seymour Centre exactly two weeks after the legendary singer's death. "It's not just the voice, it's the whole delivery. He was intimate, yet he could swing like crazy."

For Burlinson, still best known to many Australians for his lead role in the 1982 film The Man From Snowy River, Sinatra's death posed a dilemma. How to promote his tribute without appearing like an opportunist ? His solution was to avoid the media interest, preferring to "experience the moment" like millions of Sinatra fans worldwide. The day after the news broke, he was scheduled to sing That's Life on Roy and HG's ABC program The Channel Nine Show.  "I thought that's entirely inappropriate," he said of the choice of song. "So they gave me the opportunity to say my farewell by singing One for My Baby [And One More for the Road] live on the show."

Burlinson was seven when he heard his first Sinatra album. Ten years later he was singing the songs, much to the consternation of his Led Zeppelin-fixated friends.  Yet in 1991, Burlinson's long-time passion for Sinatra's music paid off in spectacular fashion. After paying his own way to a Los Angeles audition, he was chosen by Sinatra's daughter Tina as the singing voice of the young Frank Sinatra in the Golden Globe-winning mini-series Sinatra. "It was just me and a piano and we played Pennies From Heaven and Stormy Weather," said Burlinson of his American audition. "Tina just sat there and cried."

Burlinson doesn't try to impersonate Sinatra during his performance. The finger-popping mannerisms come with the territory and the natural register of the two men's singing voices is almost identical.

"When Frank's straining, I'm straining - although I'm 42, so it's a bit tough when I'm doing the stuff from 1939 when he was about 25."

Tom's Loyal Tribute.  Herald Sun. 24th June 1998. By Damien Woolnough.

Tom Burlinson is now the Man from Las Vegas, writes Damien Woolnough.

For actor Tom Burlinson, a polished party trick has become a second shot at fame. It's 16 years since he rode across cinema screens in The Man from Snowy River. Now Burlinson has hitched his saddle to the star of the late, great Frank Sinatra.

But long before he found fame wearing an Akubra, he was posing beneath a pork pie hat, emulating his idol.

"I grew up listening to Frank Sinatra's records and watching his films," Burlinson, 42, says. "Even when I was about seven I was bowled over by everything about him, especially that voice." Puberty and probably a touch of willpower transformed the Frank fan's voice into a reasonable replica of his idol.

In his new tribute show, Frank - The Sinatra Story in Song, Burlinson resurrects 24 seminal songs including The Summer Wind, Night and Day and The Lady Is A Tramp. The show opened in Sydney but the whole production, bankrolled by Burlinson, was almost called off when the Chairman of the Board died on May 14. "It was very upsetting. It happened two weeks before we were opening in Sydney and that night I was meant to go on television and sing That's Life. Singing that song would have been an insult so I selected One For my Baby. I wanted to deliver an appropriate farewell piece and fortunately I was able to.  We also went on with the season, because so many tickets had been bought, but I don't want people to think that I'm trying to cash in on his death."

Popular demand forced the show, which opens at the Comedy Theatre on July 10, to extend its Sydney season. Burlinson says that fans respond to his reverence of Ol' Blue Eyes. "I'm not imitating Frank. When I sing I may sound like him and some of the mannerisms come out, but basically, I'm telling his life story my way."

The first-time producer is backed by a 16-piece band and has enlisted two dancers to move the story along.

"One of them is my wife, Mandy Carnie, so it's nice having her there but that's not why we have the dancing. People probably get tired of looking at me and the dancing can lift the mood after some sombre ballads," he says.

Among the ballads, from this century's greatest composers, is an unfamiliar tune called The Man in The Hat. "I wrote that song and I really wanted it to be in the show because it's in the style of Frank and it expresses how I feel about him."

The song paid dividends in 1991 when he sent a recording to Tina Sinatra. Burlinson was selected by Tina to provide the voice of her father in the mini-series, Sinatra.  "When people asked Tina who was singing the part of Frank she would tell them about me and they would answer, `You mean the guy on the horse.' "

While the impact of The Man from Snowy River continues to surprise him, he has no regrets about taking the role.  "It's amazing that for some people the film is more familiar than the poem.  "People also walk into the theatre and are surprised that I can sing. I've actually been singing for a while on stage. Working against people's image of me in the film can be difficult but few actors ever receive a break like that film."

While Burlinson can revive some of Sinatra's magic with snappy singing, he says that his hero had something special which he sorely misses. "When you saw Frank perform on stage it felt as though he was looking directly at you. I certainly felt that when I saw him in Las Vegas," he says. "Now I know that he couldn't see anything because, when you're on stage, the only thing you can see is the lights."

Frank - The Sinatra Story In Song opens at the Comedy Theatre on July 10.

Tom Does It Frankie's Way.  The Age.  26th June 1998.  By Gabriella Coslovich.

The carpet's a clash of blue and purple stripes. The bar is low-brow wood-veneer. Sydney's Seymour Centre is not the most refined of venues and not the place you'd expect to find Australia's glitterati. But on a cold, wet Tuesday evening, they're packing it in - young and old, well-heeled and not-so-well-heeled.  There's Lady Fairfax, slipping into the VIP lift. And Sonia McMahon, hair teased into a golden halo, creating a ripple of curiosity.

They've all come out to watch the Man From Snowy River do his take on the Sultan of Swoon - and it's not even opening night. A 16-piece band awaits on a sparse, black stage. The sound of footsteps emanates from the darkness. Finally, into the spotlight emerges the Voice - Tom Burlinson.

A grey-haired gent can barely contain his enthusiasm: "Wow! That's him!" he cries, as Burlinson launches into Frank Sinatra's 1943 hit, All Or Nothing At All. The appraisal will be trumpeted ad nauseam over the next two hours of Frank - The Sinatra Story in Song. Critics and public alike have remarked on Burlinson's uncanny ability to evoke Frankie's rich, deep sound.

Sinatra's daughter Tina thought Burlinson heaven-sent. She gave him his first professional singing role playing the voice of Sinatra in the eponymous American mini-series (after Burlinson flew to the Hollywood audition at his own expense). But even the divine Mr Burlinson was denied the chance to socialise with Daddy.

After seeing Ol' Blue Eyes perform live at Caesar's Palace in 1991, Burlinson asked Sinatra's tenacious daughter whether he could meet his idol. She refused. "It was fine," Burlinson says. "I mean, what would I have said to him? 'Hello, how do you do, I love you'?"

Burlinson lights up in a secluded corner of a Sydney hotel. With his black turtle-neck sweater and hybrid accent, he's a far cry from the screen persona who made him an international name - the high-country horseman, Jim Craig.

It's 17 years since Burlinson, now 42, starred in The Man From Snowy River, but the image sticks. One night, after an impressive dance routine on the Sinatra Story, Burlinson remarked "I wish I could do that", only to have a Scottish lady shout back: "Never mind lad, at least you can ride a horse."

Burlinson is now riding on the crest of another success. He invested $200,000 in the self-produced Sinatra Story, a risk he shares with wife Mandy Carnie, who dances in the show. So far, the venture has paid off. What was supposed to be 14 shows in Sydney has spiralled into five weeks, followed by a national tour. Melbourne is next, then Adelaide. The show opened in Sydney precisely two weeks after Frankie's death. Even though it was conceived, scheduled and advertised before Sinatra's final exit, Burlinson became a media target. "My phone rang constantly from the Friday night . . . everybody wanted quotes and I just didn't want to play that. I just wanted to be quiet and take it in."

He still can't get through the final moments of the show without choking back tears as he recalls the tragic figure of the old Frankie, who needed teleprompters to remember his songs. "I'm not acting there, it just hits me every night."

The Canadian-born Burlinson first heard Sinatra at age seven in England, living with his jazz-loving parents. Sinatra's Sinatra became his favorite album - but the title was tricky, so he'd beckon his parents to play "the man in the hat".

The phrase would later become the title of Burlinson's first self-penned song, a dedication to Frankie. At 17, in the throes of love, Burlinson rediscovered Sinatra - which didn't go down well with his peers, who were rockin' to the likes of Led Zeppelin, Cat Stevens and Joe Cocker.

But Burlinson was hooked and his Sinatra collection burgeoned. He realised his voice was in a similar range to Frankie's and began to mimic Sinatra's famous breathing and phrasing. But impersonating Frankie would remain a sideline to acting and musical theatre, which Burlinson embarked upon after returning from America, landing a role in How To Succeed In Business Without Really Trying.

Early this year, Burlinson brought his party trick into the public arena, with the open-air show A Tribute to Frank Sinatra at Sydney's Taronga Zoo. It became the launching pad for The Sinatra Story. Like the one-eyed fan he is, Burlinson glosses over the unsavory bits of Sinatra's life: the affairs; the brawls; the mob. His focus is firmly on the music. But the crowd doesn't seem to mind. From the toe-tapping oldies, to the young and groovy, they're happy to let him invoke the spirit of their smooth hero.

"It's in me, I feel it, I feel him when I'm singing," Burlinson says. And in a cheesy American accent he adds: "Some people say, 'you channel him!' "

* Frank - The Sinatra Story In Song, opens 10 July at the Comedy Theatre.

Frankly He's a Fan.  The Advertiser. 1st August 1998.  By Sarah Thomas.

Impersonating a singing legend is much more than a performance for Tom Burlinson, as SARAH THOMAS discovers from the actor better known for his action in the saddle than serenading with a song.

The Man From Snowy River has an American accent. It's subtle, but it's there and seems almost sacrilegious.  But Tom Burlinson insists that he's always had the accent. ``It's always been there because I was born in Canada and I spent the first

six years of my life in Canada and the United States,'' he explains. ``So many people see me as Jim Craig and thought that's the way Tom Burlinson spoke,'' he laughs.  ``But that never was the case.'' Craig was his character in the two Man From Snowy River movies, in 1982 and '88.

The accent, the product of his upbringing, has, however, served him well in recent years. A string of movies in the United States followed his Snowy River success but now the accent serves him well in a totally new medium.

Frank ~ The Sinatra Story in Song is Burlinson's new creation, presently running in Melbourne and about to come to Adelaide. It is the show which has been in Burlinson's heart for as long as he can remember. He first came across Ol' Blue Eyes in his parents' record collection when he was seven years old.  He rediscovered the record in his late teens and became an avid fan.  But he sang along with Sinatra for his own pleasure, as he was  pursuing an acting career.  ``I didn't want to be a Sinatra impersonator but I found I could do a pretty good interpretation of him,'' Burlinson says. His fanaticism eventually led Burlinson to write a song in tribute to Sinatra, The Man in the Hat.

That was one of the songs he sent to Tina Sinatra in 1991 when she was planning a mini-series about her father. He was immediately cast as the voice of the young Sinatra. ``It was such a great honor,''  Burlinson says, ``and people didn't even know Tom Burlinson could  sing, let alone sing Frank Sinatra.''

Burlinson spent time in the early '90s in America before returning to Australia to perform in How to Succeed in Business Without Really Trying, during which he met his wife, Mandy Carnie, and decided Australia was once again to be home.

The seed for Frank ~ The Sinatra Story in Song was sown late last year when Burlinson ~ now recognised for his fine voice ~ was asked to sing in a series of open-air concerts at Taronga Park Zoo in tribute to Sinatra. ``Here was the opportunity to see how people would respond to me telling his story,'' Burlinson explains. ``The response was so positive at the concert that I thought now was the time to bite the bullet and put the show out there that had been in my heart for so long.''  The show was written, choreographed, a 16-piece band and two dancers (one of them his wife) brought in and thousands of tickets sold.

Exactly two weeks before the show was due to open, Frank Sinatra died.  ``I had a responsibility to go on with it but I was determined to let people know that we weren't cashing in on his death,'' Burlinson says. ``It was always meant to be a celebration of his life.''

The show covers not only Sinatra's finest music but his life, with Burlinson filling in biographical details along the way.  ``His is such a huge story, it's as much an exercise in what to leave out as what to include,'' he says. He occasionally quotes Sinatra, in order to give some life to his unique personality, but never impersonates him. Not that he couldn't if he wanted to. Burlinson's voice is uncannily similar to Sinatra's.  That is mostly coincidental, according to Burlinson. ``The ranges of

our voices are very similarly placed, as is the tonal quality. Even if I'm not doing Sinatra's music I sound like him.''

Burlinson has, however, made a conscious effort to imitate Sinatra's style ``because it is his unique style that we are celebrating''.  Burlinson never met Sinatra and that's something he's not disappointed about. ``I think it's a good idea not to meet your idol,'' he says. ``If he had been an old so-and-so I would have been heartbroken. That risk was one which I was quite happy to avoid taking. I just let him be who he was to me.''  That was someone truly unique. ``What makes Sinatra so special is, first of all, his innate musicality,'' Burlinson enthuses. ``What made him so fascinating was the complexity of character. Here was somebody who had a violent temper but was very tender and caring and concerned. There were lots of opposites in his character which made him quite fascinating. He also had a wonderful talent to make one feel like he was singing just to you and I think the way he did that was by personalising the songs so you felt he had experienced or was experiencing what he was singing about.''

Whether he emulates those qualities on stage or not is up to audiences, but Frank ~ The Sinatra Story in Song has already been favorably received by the critics in the eastern States. The Sinatra family have not been privileged to the show yet, as Burlinson wants to tour all the Australian capital cities before he thinks about taking it overseas.

While he admits that most of those audiences still see Burlinson as Jim Craig, that's something the amiable performer takes in his stride. ``To be cast in that movie in the title role in my first feature film, that was a fantastic career break for a young actor,'' he says. ``It led to lots of other work in Australia and overseas and I can't complain about that. But the only way to not be known for only one thing is to diversify and that's what I'm doing.''

Diversification for him includes roles in international films and mini-series and recently, a stint on Channel 9 as host of Animal

Hospital.  With this show he aims to put another nail in the coffin of ``the kid on the horse''.  ``I know people are coming to the show wondering how it's going to work. But after a while, they just come a long for the ride.''

Despite his passion for music, Burlinson insists he still ``very much an actor'' ~ and one who is open to offers.  ``I'd love to do an Australian movie because I haven't done one since The Man From Snowy River II ~ the kiss of death sequel,'' he laughs.

But he admits it is difficult to be cast after Snowy River.  ``But hopefully as the career goes on these things break down and I'll stop being seen in that one image.''

Frank ~ The Sinatra Story in Song runs at her Majesty's Theatre, August 14 to 29.

My Way, Or No Way.  Newcastle Herald.  24th September 1998.  By Ken Longworth

Tom Burlinson's fascination with Frank Sinatra has cost him a lot of money over the years.  First, there was the song he wrote almost a decade ago in tribute to the late, great American singer.  When Burlinson decided to record the song, The Man in the Hat, he didn't opt for a small back-street studio and a piano accompaniment.  `I decided I'd employ a 16-musician band and hire the old ABC studios in William St (Sydney),' he said.

When he found out in 1990 that Sinatra's daughter Tina was producing a television mini-series based on her father's life, he also did more than send off a cheap videotape showing himself singing.  `I tried to work out how to make it more interesting to the Americans. I set up a multicamera situation, used other actors and costumes and put together very complete, different scenes.'

And when he decided this year to mount a stage show based around Sinatra's incredible 60-year singing career, he mortgaged his house to help raise the $200,000 he needed to get it on the road. `I wanted to maintain creative control over it. It was my show, with my choice of songs and my choice of who to employ,' he said. `No decision has been made without my approval.'

Like his idol, Burlinson's determination to do things his way has paid off.  The recording of The Man in the Hat led to appearances on high-rating television shows like The Midday Show, letting people know that Tom Burlinson, actor in The Man from Snowy River, was also Tom Burlinson, a fine singer.  The video sent to Tina Sinatra resulted in a message to his agent along the lines, `Tina says we'll meet with Tom if he'll fly to LA (Los Angeles)'.  So he flew from Sydney to LA, again at his own expense, and did a live audition for Tina Sinatra.

While he didn't get to play Frank Sinatra on screen, Tina was so impressed by the resemblance of his voice and his singing style to her father's that she signed him up to record the songs for the mini-series.

That, in turn, led to Australian theatrical producer John Frost casting Burlinson in the leading role in his 1993 musical production How to Succeed in Business Without Really Trying, which became the first of a series of musical roles.

The newfound recognition of the actor as a musical performer, plus a growing awareness in Sydney theatrical circles of his uncanny ability to perform Sinatra songs, produced an invitation to do a couple of Sinatra-tribute shows this year as fund-raisers for Taronga Park Zoo.

The enthusiastic audience response encouraged Burlinson to develop the show into a fully-fledged theatrical entertainment. Again, he decided to do things his way, serving as his own producer and financier to avoid the risk of compromise.

Frank ! The Sinatra Story in Song was a risk, a risk increased when Sinatra's death two weeks before the show's Sydney opening in June raised questions as to whether people would see it as an attempt to cash in.

As things turned out, the two-week Sydney season was extended to 5 weeks and Burlinson decided to take the show around Australia. Frank ! The Sinatra Story plays at Newcastle's Civic Theatre on October 2 and 3 after sell-out seasons in Melbourne and Adelaide.

The show features Burlinson singing 24 of Sinatra's amazing repertoire of songs, plus his tribute song, The Man in the Hat.

There is a 16-piece band and a pair of dancers (one of whom is Burlinson's wife, Mandy Carnie, whom he met when they were playing in How to Succeed . . .).   Between the songs, Burlinson delivers third-person snippets of information about Sinatra.

It's non-controversial stuff, avoiding the stories about Sinatra's treatment of women and alleged Mafia connections, but Burlinson said he didn't set out to `play amateur psychologist and try to work out what made the man tick'. `What fascinated me was the man's work. That's what he wanted to be judged on. He expressed the best part of himself through his music.'

Burlinson's fascination with Sinatra began at the age of 7, when his father, an employee with an international company, was working in England. His parents had several Sinatra LPs and one, Sinatra's Sinatra, had a picture of the Voice wearing a hat.

Burlinson found the album's name a tongue-twister and used to ask his parents to play the one with the man in the hat, the source of his tribute song almost 30 years later.  As a 17-year-old acting student at NIDA, he became known for his party act doing Sinatra songs but, again, it was to be almost 20 years before he did something with that party act.

Burlinson, now 42, said he had no regrets about the financial risks he'd taken over the years on Frank Sinatra projects. They had paid off in spades.  `If you don't take chances in life, you don't know what the consequences will be,' he said.  He had been tired and almost missed The Man from Snowy River audition but pushed himself to go.

Tom's Expecting A Break.  Sunday Herald Sun.  15th November 1998.  By Bob Crimeen.

The man from Snowy River, who upon his trusty steed thundered across Victoria's high country and the world's cinema screens a few years ago, is soon to hear the patter of tiny human feet.

Actor-singer Tom Burlinson and his dancer wife, Mandy Carnie, are expecting their first child in April, two months after the Melbourne return season of his hit concert musical Frank - The Sinatra Story in Song.

They met during the 1993 Sydney season of How To Succeed in Business Without Really Trying, in which Burlinson played J.P. Finch and Carnie was an ensemble dancer, and married in December 1996.

Carnie's pregnancy has forced her to withdraw from the show in which she partnered Frank Hawley in four sexy dance routines, and put on hold plans for Burlinson to take Frank overseas.

"I want to be at home to experience the thrill of being a father for the first time," Burlinson said from his and Carnie's Sydney home.  We are getting lots of interest in the show from different countries, but there will be more important things happening in our lives.  We are excited about the baby and want to be home and settled for a while before we decide what happens next with our careers. The pregnancy has forced us to call off the Hobart season, but I'm sure we'll get there some time."

After the extended Melbourne premiere season of Frank at the Comedy Theatre in July-August, Burlinson took the show to Adelaide, Newcastle and Brisbane, where he finished a 31/2-week run last weekend.  Later this week, Burlinson dusts off his tuxedo for a return Sydney season and after the Christmas-New Year holiday takes Frank across the Nullarbor for the show's debut in Perth, before returning to Melbourne for the February 17 opening at the Comedy Theatre.

"Melbourne loved the show and when the opportunity came to do a return season we jumped at it," says Burlinson, who produces Frank in addition to singing 25 Sinatra songs. "Initially, bookings were slower than they had been in Sydney, but when Sam Newman declared on The Footy Show that everyone should see Frank, it took off.  By the end of the season it was impossible to buy a ticket and everybody said we could have played for at least another two weeks.  But we were committed to go on to Adelaide and had to close."

Burlinson, who revealed Leanne Mauchlan had replaced Melbourne-born-and-raised Carnie as Hawley's partner, said producers in the United Kingdom, Europe, Japan and the United States were interested in presenting Frank.  "Everything's in limbo at the moment and I'm not going to rush into deciding what happens after the Melbourne season," he says.  "In showbiz you never know what's around that next corner, and our immediate focus is on becoming new parents.  We are fortunate to have been so well received in Australia and the show probably would need some reworking to take it overseas.  I'm not racing into anything and saying: 'Yeah, we're headed for London or the States.'  I'm just going to take it slowly and steadily."

Tom Burlinson's Growing Concern.  The Sunday Telegraph.  15th November 1998. 

By Paul Lepetit. 

Tom Burlinson's tribute to Frank Sinatra is not the only thing that has been growing over the past few months.

Burlinson's wife, Mandy Carnie, is taking the production business a step further -she is expecting their first child in April.

And one thing is certain: "The child will not be called Nancy, Tina or Francis," says Burlinson, laughing.

Carnie has stepped out of Frank: The Sinatra Story in Song, and a friend, Leanne Machlan, has joined Keith Hawley as a dancer.

The show began as a low-key event originally destined for a short season at the Seymour Centre in May.  But after a few performances, the critics and audiences decided otherwise -the show became a palpable hit, charming and thrilling audiences in Sydney, Melbourne, Adelaide and Brisbane.

Burlinson, the creator, still happily maintains his down-to-earth attitude about the show's success.  "Once we had established that people liked the show, then we decided that we wanted to take it to as many capital cities as possible."

So after a short season at Sydney's Capitol Theatre this week, Burlinson takes a break over Christmas before hitting the road (and those old blue eyes) again with bookings for Perth and a return season in Melbourne.

Burlinson has placed himself in a unique role -as creator, producer and performer which he admits he occasionally finds trying.  "Sometimes it is hard to let the business stay out of the theatre," he says.  But co-workers say behind Burlinson's back that he remains both the consummate artist and a wonderful man to work with.  Grab your tickets to his show as soon as possible -at last look, the Capitol was filling fast.

Frank, Tom's Way. The West Australian. 11th January 1999. By Ron Banks.

Two weeks before Tom Burlinson's tribute show to the life of Frank Sinatra was scheduled for performance last year. Ol' Blue Eyes died. The show, simply entitled Frank, went ahead as planned, although now Burlinson was playing homage to the memory of the great singer rather than celebrating his life

Because the show premiered so soon after Sinatra's death Burlinson had to fend off the rumours that it had been put together to cash in the public appetite for anything about the singers life and career.

"Not true." Says Burlinson, who had been working towards his tribute for many months, in fact years, if you want to trace his devotion back to the days when he first heard Sinatra on the family phonograph in the lounge room. By his late teens he realised his own voice had the range and timbre of Sinatra so his childhood interest was renewed.

When he discovered in the early 90's that Tina Sinatra was producing a mini series on her father's life, Burlinson took a long shot on playing the part himself. He made a video of himself singing Sinatra and sent it to the Hollywood producers. He didn't get the lead role, but the producers were so impressed with his voice that they invited him to Los Angeles to record the earlier songs of Sinatra's for the mini series. Many of Sinatra's earlier songs, recorded on tinny equipment had to be re-recorded to reach modern standards, and it is Burlinson's voice that is heard in the first part of the five hour mini series.

With this back ground it is not surprising that last summer Burlinson was offered the chance to do a six night open air season at Sydney's Taronga Park Zoo with the Australian Army Band. It started Burlinson thinking about putting his own show together celebrating the life of Sinatra. The next few months were spent selecting the songs from Sinatra's vast repertoire, and finding young musicians who could handle the arrangements.

He decided to start the show with Sinatra's first hit All or Nothing at All, first recorded in 1939. From that point it would be a trek through Sinatra's major musical periods - the 40's, the Capitol Records period in the 50's, and finally to his great anthems New York and My Way of the 70's and 80's.

"Everything was ready to go when the old man died." says Burlinson. He admits that Sinatra's death did increase interest in his music and when Frank opened in Sydney's Seymour Centre in June 98 the audience response far exceeded Burlinson's expectations. The season of 12 shows grew to 5 weeks and was immediately snapped up for a season at the Melbourne Comedy Theatre.

Now the production is coming to Perth's Burswood Theatre from January 20th, complete with a 16 piece band.

"I'm not a Sinatra impersonator," Burlinson says, "Its me singing the songs of Sinatra, and I quote stories from him and give the audience glimpses into his life."

Since the success of the Sydney season, Burlinson and his band have made a live recording of Frank, which is available at his shows. Listening to his versions of songs like Come Fly With Me and I've Got The World on a String, Burlinson does indeed sound uncannily like Sinatra, a vocal resemblance sharpened by the same sense of timing and phrasing. His show may not be an impersonation, but there is certainly plenty of imitation of the Sinatra way of packaging and delivering a song.

Frank also features two dancers, Leeanne Mauchlan and Frank Hawley, to add some extra pizzaz. Burlinson's wife Mandy Carnie, was the original female dancer in Frank, however this time she is pregnant with their first child, due in April. The big question, of course, is whether they will name the baby Frank, or Nancy, or Tina.

Burlinson's Got Sinatra Under His Skin. Perth Sunday Times. 17th January 1999.

By Sam Hardcastle.

Tom Burlinson's enduring interest in Frank Sinatra is given free rein in the Australian actor's stage celebration of the man and his music. As creator, producer and star of Frank - The Sinatra Story In Song, Burlinson is fulfilling a personal dream. He also promises it will be a treat for fans of one of the world's best loved performers whose career spanned more than 60 years.

The show, which premiered in Sydney last year and has toured Melbourne, Adelaide, Brisbane and Newcastle, comes to Perth for a short season at the Burswood Theatre from Wednesday.

Burlinson described the development of his performance as a culmination of many years of research and emotional memory. "I've been a fan of Sinatra pretty much my whole life, I've enjoyed his singing and his music for many years."

He said his encyclopedic knowledge of Sinatra's music, gleaned over the years from his well documented career and private life, was put to good use in the scripting of the show. "I was choosing songs, writing material about him between the songs and generally putting together a two hour show." Taking creative control as producer also entailed a certain financial risk. "But I wanted to produce the show myself, it was a lifelong passion for me."

The 25 songs in the show follow Sinatra's career from start to finish. "I was trying to find the essence of him, the thing I found most interesting about him, and it was his musicality. I chose songs which may reflect things that were happening in his life at the time."

He stressed the show was not an impersonation. "I don't play Sinatra," he said. "I talk about him in third person and I quote him but its me singing the songs very much in the same style. The songs have been a part of my life and in my heart, they have emotional connections, years and years of memory."

Fans will welcome a couple of trademark songs which open the show - I've Got The World On A String and Come Fly With Me - as an invitation for the audience to come on a musical journey. Burlinson says the singing style changes throughout the show as, at 42, he portrayed the change in the key of Sinatra's maturing voice.

"When it was first seen in Sydney, people said 'this show is destined for Vegas'," Burlinson said. "But other people are doing it in the US and one of them is Frank Sinatra Jnr. I'm just taking it one step at a time, taking it to Australia first, and an overseas tour would probably require an injection of someone else's cash, so there are no plans for it at the moment."

Burlinson said the secret to continued work in show business in Australia was the ability to diversify and a career in theatre, film, television and recording kept him busy. "I'm up for anything, really. You couldn't get further away from The Man From Snowy River than me in a dinner suit singing Frank Sinatra songs."

Tom Flies with Frank. The West Australian. 22nd January 1999. By Ron Banks.

Imitation is the sincerest form of flattery, so I suppose you could say that Tom Burlinson is a big flatterer.

Burlinson is blessed with a voice that has the same timbre and range as Frank Sinatra, and he knows how to copy the phrasing and timing of the legendary singer. But Burlinson doing Sinatra is a cut above the fat Elvis impersonators of this world in their fat white cat suits and helmets of hair. For a start, there is no attempt at physical impersonation when Burlinson appears on stage. He dresses snappily, just like Sinatra, and there is the occasional familiar hand gesture when delivering a song.

Nor is the stage surrounded by Sinatra memorabilia, no photographs, film footage or movie posters of Frank to give atmosphere. What the audience get is the man and his music provided by a tight 16 piece jazz orchestra with a big full sound.

Burlinson sings Sinatra with a good deal of class and an uncanny vocal resemblance. Close your eyes and you could be at a Sinatra concert back in the 40's, 50's, 60's or 70's - in Vegas or New York or even Australia, which he visited on several occasions. Burlinson's show business sass can take you back to he days when Sinatra redefined the meaning of a singing superstar. We get Sinatra the swinging lover, Sinatra the soulful balladeer, Sinatra the hit parader and the crooner of such hits as My Way.

Between the songs Burlinson keeps up a commentary on the highs and lows of Sinatra's life, dropping in the occasional quip that helps to bring his character to life. Best quip of the night though, was courtesy of Dean Martin commenting on the 50 year old Sinatra's marriage to the 21 year old Mia Farrow. "I've got Scotch that's older than her," said Martin.

Burlinson makes the point that Sinatra's choice of songs - those he made hits, at least, were essentially autobiographical, and that it's possible to chart his life's course through the songs. When one of his marriages was on the rocks, for example, Sinatra was able to produce some of his more sorrowful ballads. And a song like That's Life summed up the resilience of his career. Burlinson is obviously a fan, but honest enough to provide a glimpse of Sinatra's darker side - his egomania, his arrogance, his success in the film industry and his controversial relationship with the press.

There is a lot more to Sinatra's fascinating life that Burlinson has time to include, of course, but his selection of incidents and events adds another dimension to the show. It also gives those of us who have forgotten some of the details a reminder of how varied and turbulent his life was over seven decades. Burlinson relates them in a strange kind of Noo Joisey accent, and his emotional tribute at the shows conclusion brings out al his acting skills.

It's a touch too stagey at this point, but what carries the show is the shrewd choice of songs and Burlinson's ability to deliver them with the same sort of style and relaxed confidence of his mentor.

The 16 piece orchestra, most of them local Perth musicians who rehearsed together only the day before, sounded like they had been on the road together for years. Their sound was fat and luscious, and the arrangements by musical director and pianist Michael Harrison recreated the famous collaborations of arrangers such as Nelson Riddle, Billy May and Gordon Jenkins.

The show ends, predictably enough, with those two late career anthems My Way and New York, which Sinatra turned into autobiographical summations of his career.

If you were never fortunate enough to hear Sinatra live, Burlinson's Frank is the next best thing. There are only seven more performances.

Frankly, Tom's Way Is OK. Perth Sunday Times. 24th January 1999. By Alison Farmer.

In Frank - The Sinatra Story In Song, Tom Burlinson never tries to impersonate the singer termed the first modern superstar. But close your eyes, lean back and, as a succession of glorious lyrics ease out into the Burswood Theatre audience, you would swear Sinatra was hanging around.

Backed by a 16 piece band, directed by composer-pianist Michael Harrison, this is an immaculate and seamless show in which the popular Australian actor takes us through the highs and lows of Sinatra's life - his successes, failures (mostly in marriage) and the final, sad disintegration of his performing style in the latter years.

And while the show might lack the knife edge danger of an actual Sinatra performance, Burlinson gives us something else. He's a genial and generous host peppering the script with anecdotes on the Sinatra temperament, love affair with booze and quite incredible career.

The band is terrific but this is Burlinson's show. The end - pre-encore, that is, and after My Way when the actor/singer's shadow on the cyclorama is eerily like Sinatra himself - is unbearably moving. At Burswood till Saturday night and highly recommended.

Tom's Doing It His Way.  Herald Sun. 17th February 1999.  By Sarah Hudson.

Tom Burlinson is in training. Not for a new heroic film role akin to The Man From Snowy River.

Not as a television presenter on a cute animal show and not as the suave crooner in Frank: The Sinatra Story in Song.

Burlinson has instead been studying to be a father in expectation of the delivery of his first child in April.

And his subject matter: dirty nappies, sleepless nights and projectile vomits. "Everyone I've spoken to says having a baby makes the biggest change to a person's life," he says. "So Mandy (Carnie, his wife) and I have been going to parent craft in an attempt to prepare. It's very informative."

While the first arrival is welcome news for the Burlinson clan, for Australian audiences the news means a short departure from our screens and stages.

"I want to make sure I'm there when it happens and afterwards too," he says.

But Burlinson will not depart before a return Melbourne performance of Frank following an acclaimed tour of Australia.

He says while the first Melbourne performance started slowly and was therefore the least successful in Australia, he has high hopes for the return season.

"I'm not sure why it started off so slowly, I don't know what people expected. But once it did get rolling it was a hit. So much so that by the end of the season we could have stayed open for much longer but were committed to leave town. So we never capitalised on that success."

He says it will be sad to finish the show that he created and for more than 100 shows filtered his passion into. "In a way it will be sad to finish it because it's so dear to my heart.  The whole thing is meant to be a celebration of Frank Sinatra's career and musicality and I don't want to start losing enthusiasm for this.  So it really is a natural ending for it. I don't want to be travelling around the country with it while having a baby."

Since he began the show there has been constant speculation about an overseas tour.  Again, baby comes first. "When I first created it, my intention was to take it all over Australia. I've now done that.  I'm not saying I won't take it overseas, but just not at the moment."

And as for his future career?  "There may be another project I feel strongly about that I will do, or there may be another producer who will offer me something, but for the moment, I will be changing dirty nappies."

Frank: The Sinatra Story in Song will run for nine shows from tonight at the Comedy Theatre.

Frank Talk.  The Sunday Age.  21st February 1999.  By Jim Schembri.

It was starting to look as though Melbourne was going to tank. Tom Burlinson's loving, live tribute to Frank Sinatra had done well in Sydney, where it had filled the huge Capitol Theatre four times. But when Frank - The Sinatra Story In Song played in Melbourne last July, the town turned a cold shoulder. Those who saw it loved it, and the reviews were warm, but it just wasn't taking. "It looked for a while as if we were going to lose money. We were looking like it was really going to go bad on us," says Burlinson. "I'd already committed to extending the season in order not to have to put everything in storage and lay everybody off before we were committed to going to Adelaide, and the extension was looking pretty disastrous."

Burlinson, an actor with a sizeable filmography, is best known for playing Jim Craig, the title character in the classic 1982 Australian film The Man From Snowy River. He thus theorised that audiences "had trouble connecting Tom Burlinson: the Man From Snowy River with Frank Sinatra".  The show was on the brink of folding. Then arrived an unlikely savior.

"We committed some more money to advertising, but the thing that really made the difference was when Sam Newman on The Footy Show told his audience to go see Frank. The next day, ticket sales started to really improve, and by the end of our second week of extension you couldn't buy a ticket. The last three shows were completely sold out. We actually left Melbourne with the idea that the show had been a huge success, and, in a way, it had been. But monetarily we just scraped through."

A theatrically trained actor, Burlinson developed Frank at a time when his screen career was in low gear. Having providing the singing voice of Sinatra in the 1991 TV mini-series Sinatra, he re-established himself on the local stage, starring in How To Succeed In Business Without Really Trying. He then did A Tribute To Frank Sinatra at Sydney's Taronga Park Zoo.

If the show has done one thing for Burlinson, it has given him another feather to his cap. No longer just the guy from "the horse movie", he is now also the guy who does Frank. Two feathers, he figures. That's two more than most people get to boast about.

The show came at the right time for Burlinson. He needed to take control. "In the middle of last year, for the first time in my career, I actually took the reins, so to speak. I said, 'Well, I'm going to produce this, I'm going to be creatively responsible for it and financially responsible for it and put it out there and back my own judgment.' I wanted to show that I was able to essentially hold an audience's attention. Sure, it's with the help of a 16-piece big band, but basically it's me. If I don't hold the show together then it's not going to hold together."

While Frank has done well, Burlinson doesn't oversell it. It's a simple show with simple appeal. "Maybe we broke a little bit of new ground in that here essentially was a concert in a theatrical setting. I kept the ticket prices down intentionally in order to make it accessible to people. "I personally think that theatre's too expensive and I know that most shows don't make money and producers have a hard time of it, but I still think $65, $75, up to $95 a seat to go to the theatre keeps a lot of people away. "

Film fame has smiled only intermittently upon Burlinson. Snowy was good for him, as was Phar Lap (1983), but not so great were Windrider (1986), Paul Verhoeven's blood and armor epic Flesh And Blood (1985), and the immortal science-fiction clunker The Time Guardian (1987), a misconceived, big-budget Australian film. He did a Snowy sequel in 1987 and then moved to Los Angeles for three years to try to establish himself there.  It was a valuable experience, but it didn't quite work out. And while we have seen him on Australian TV fronting Animal Hospital, we haven't seen him in an Australian film since Snowy II.  Has Burlinson given up on films?

"No, not by any means," he says. "I'd love to have another opportunity in a film, whether it be internationally or in Australia. But I think in that area it seems that The Man From Snowy River is too strong an image for film-makers (here) to set aside. It has been, at least. I don't know if it will remain so, because I am getting older now and I think I'm a better actor than I was. I'd love to have another opportunity to be involved in Australian film because I really enjoyed exploring the medium."

Had Snowy River, of which he is immensely proud, been an American film, Burlinson theorises, his film future would have been very different. "I could have played lead roles in feature films probably for the rest of my career, provided I made the right choices. But that's not the case in Australia, and it is because of the size of the Australian film industry."

But never mind all this. Tell us about The Time Guardian, Tom.

"What I can tell you honestly about The Time Guardian is that when I read the script I went to the producers and the director and said, 'You don't want me for this. I'm not right for this movie.' But they said, 'Oh yes, we definitely want you,' because I was one of the few Australian actors on the list who would be accepted by American distributors at the time. So, OK, then you start to say, 'Yes, they do want me, and maybe it's going to be something different.' It wasn't another horse movie, it was an attempt to do science fiction in Australia. Carrie Fisher was in it and Dean Stockwell was in it and it looked like it might be OK. Then it became quite clear that the director didn't have the experience, let's say, to really keep control of the project. When his cut of the film was delivered to the producers he was immediately fired and the second unit director, who'd edited the film, was employed to try to save it. So we did a whole lot more shooting and cut a whole lot of stuff out and essentially they patched it up.  Now, any project on which something like that happens, it's going to show. You may not know exactly what's wrong, but you know that something's wrong. Of course, when you go into these projects, you don't know. I mean, we didn't know when we made Man From Snowy River that it was going to capture the imagination of so many people. The same thing with The Time Guardian. All that I knew was that my name was above the title and that I was giving it my best energy, but I'm afraid that sometimes actors cannot be held responsible for the final product."

* Frank is at the Comedy Theatre, City, until 27 February.

Back As Blue Eyes.  The Advertiser.  30th April 2001.  By Susan Archdall.

The man from Snowy River returns to Adelaide as king of the crooners. With the approval of the Sinatra family behind him, Australian actor Tom Burlinson's tribute to Ol' Blue Eyes can't go wrong. Burlinson, who first performed Frank - The Sinatra Story in Song just weeks before Sinatra died in 1998, plans to take the show to North America later this year.

The star of films Phar Lap and The Man from Snowy River and TV's The Restless Years as well as Animal Hospital would not be able to take his show to the US without the Sinatra family's support. ``I sent a copy of the videotape to Tina Sinatra and the lawyer for the Sinatra family. I'm happy to say they like the show very much and they have given approval for the show to be produced overseas,'' says Burlinson. ``There are lots of shows who want to use the Sinatra name and image. They don't give it away for free. For them to say, `Yes, this is something we will give permission for' is certainly a head start. They're very careful about who is allowed to use the name and the image.''

Burlinson says his act is more imitation than impersonation. ``I don't try to be him at all,'' he says. ``It's still me singing the songs but very much in the Sinatra style.''

He isn't sure how much the use of the Sinatra name overseas will cost him. It is one of the logistics he is tackling, along with US union laws which will decide how many Australian musicians and dancers he can take with him.  Australian copyright laws and the approval of Sinatra's daughter Tina enable Burlinson to use the Sinatra name in Australia. He also sang the role of the young Sinatra in a telemovie made by Tina.

But before Burlinson takes his Sinatra to the US, Adelaide audiences have the opportunity to see it again in the inaugural Adelaide Cabaret Festival. Burlinson has made few changes to the show which was a success in Adelaide in 1998. The song content will be the same, though spoken monologues between numbers have been revised, he says.  Since opening in Sydney in 1998, the show has travelled to Melbourne, Adelaide, Newcastle, Brisbane and Perth, with return seasons in Sydney and Melbourne.  But for the past two years Burlinson has only performed it for private functions and charity events.

Burlinson and his wife, dancer Mandy Carnie, have taken the time off to get used to being new parents to two-year-old Mia and six-week-old Guy. ``It's been a period where I've been fortunate to be able to spend quite a bit of time at home,'' says Burlinson.  Carnie, together with Keith Hawley, originally choreographed and danced in Frank - The Sinatra Story in Song. But she left after the first Melbourne season when she fell pregnant.  ``The Adelaide Festival Centre wanted the show for the Cabaret Festival - it just seemed to be the right timing,'' Burlinson says. ``In May, Mandy will be ready to dance again. Having the show in bed over a couple of years and looking at it again, I've been inspired to do it again.''

Burlinson is backed by 16 musicians on stage and two dancers appear for four numbers. The show features Sinatra standards Love Be a Lady Tonight, New York, New York and Summer Wind.  ``Basically, it's me talking about Sinatra's life and music and career directly to the audience,'' Burlinson says. ``There is still an intimacy which makes it qualify as cabaret. I hope that even though we're in the big theatre people will feel that sense of intimacy. That is what I strive for and Sinatra is quite famous for making people feel like he was singing to them personally.''

Born in Toronto, Burlinson has lived in Australia since age 10. His father worked for an international company which saw the family move from England to Toronto to New Jersey to Australia, which explains why he doesn't have a problem with Sinatra's accent.  ``I lived in New Jersey when I was young which is, of course, where Sinatra is from,'' he says. ``When I first started to speak I spoke with an American accent.''  He first heard Sinatra at the age of three, rediscovered him in his teens and has been a fan ever since. But he never met his idol - ``working with Tina and singing his voice as a young man was as close as I got''.

Frank - The Sinatra Story in Song is at the Festival Theatre on May 11 and 12.

After Giving Birth, Mandy's Ready To Deliver The Goods.  The Advertiser.  10th May 2001. 

By Susan Archdall.

After giving birth to her second child only nine weeks ago and a three-year break from the stage, dancer Mandy Carnie is all set to perform in the Adelaide Cabaret Festival.  In between breast-feeding Guy and caring for her first born, Mia, 2, Carnie will perform in Frank: The Sinatra Story in Song which opens at the Festival Theatre tomorrow.  But the working conditions aren't too tough for Carnie - her husband is the show's producer and star Tom Burlinson.  Yesterday she joked that the maternity ward was a good place to limber up for the performance.  ``I've never had a break for three years before but you never lose it; once you're a dancer you can do it all your life,'' she said.

With fellow dancer Keith Hawley, she choreographed and danced in Frank: The Sinatra Story in Song in 1998. They danced to numbers including Saturday Night, Summer Wind and Luck Be a Lady.  But Carnie - who in the course of the show does plenty of lifts, turns, splits and throws - quit in April 1998, the day she found out she was pregnant with Mia. She was replaced by the time the show made it to Adelaide that year.  A singer, dancer and actor Carnie has performed in Cats, A Chorus Line, Sweet Charity and The Mikado. ``That's enough touring without my husband,'' she said. ``Now we like to stick together. For the moment family is first for us.''  Adelaide holds special memories for Carnie. The Festival Theatre was the site of her professional debut in Cats in 1989.  ``It opened here. It was a big night I had just turned 18,'' she said.

Burlinson, the star of films such as The Man from Snowy River and Phar Lap, has never performed in the Festival Theatre.

When he first performed Frank: The Sinatra Story in Song in Adelaide in 1998 it was at Her Majesty's Theatre.  Already the show has sold about 1600 tickets for both the tomorrow and Saturday night performances in the 1930-seat theatre.

Burlinson last performed Frank: The Sinatra Story in Song in 1999.  He revived it solely for the Adelaide Cabaret Festival but plans to take it to the US later this year.  ``I was really thrilled to be invited. I guess being in the Festival Theatre your show can't be quite as intimate as some of the cabaret shows around,'' he said.  ``Even though this theatre does hold a lot of people, nobody is all that far away from the stage. I think you can manage a sense of intimacy about it.''